Remodeling your kitchen doesn't have to be a challenge!
If you're someone who loves to cook and experiment with new recipes, then you probably spend most of your time in your kitchen. It can be quite frustrating if you have a shoebox for a kitchen and aren't be able to move around as much as you'd like to.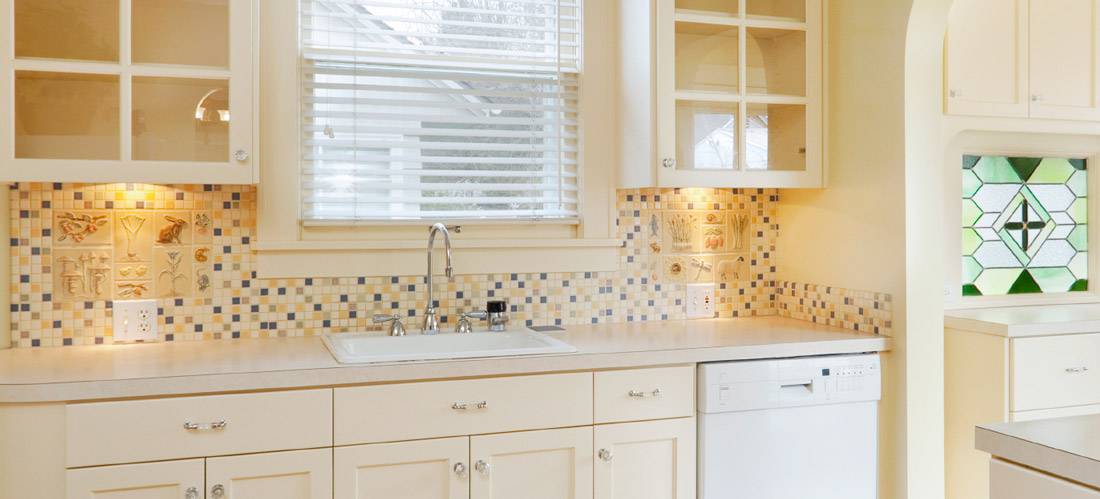 Worry no more, because this guide will help you find a solution to this problem. Read on for tips on how you can maximize a small kitchen space—and even make it seem and feel larger while you're at it!
1. Decorate Corners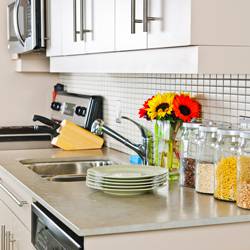 Despite being small, there might be spots and corners in your kitchen that have the potential to create a larger feel for it. You can maximize the areas that you often forget to decorate by going for underrated yet useful items such as a small corner table with a matching stool or chair. An upright stand could also be added along with a flower vase or pot on top. Paying attention to corners would help you create a balanced look for your kitchen without leaving out any spot.
2. Utilize your storage properly
Storage is very important in kitchens, and if you have a small one, having organized shelving is the good way to go. You can put in a kitchen cabinet the china and flatware that you only use for special occasions, and store the ones that you use daily in a separate area. Keep your silverware and other cooking materials in a kitchen drawer instead of putting them in a visible cutlery holder. Hanging shelves would also be your best bet if you're trying to maintain more free spaces in your kitchen.
3. Use light colors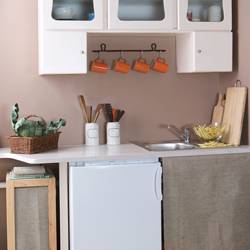 The colors that you will use to paint your kitchen's walls can also influence how big or small it would look like. Using lighter colors creates the illusion of a larger room, so it would be advisable to pick out brighter hues. Go for light green and light blue shades for a fresh and serene vibe; bright yellow and orange tones create a sunny and vibrant ambience. Keep key pieces coordinated by using one color palette and apply your chosen color to your main furniture.
4. Hand your pots and pans
Hanging your favorite pots and pans on the walls or on a makeshift rod is surely a chic way to save up space while decorating your kitchen at the same time. Just make sure to hang them up in an organized manner so they won't look cluttered and in disarray. You may arrange them by size, purpose, or whichever way you prefer.
5. Go for slimmer furniture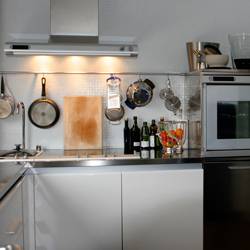 Achieve a smaller looking kitchen by using slimmer décor. Choose the ones that would not only bring life to your kitchen, but also those that would complement each other. Thin-structured but tall chairs and small but sleek center tables are just some of the furniture that you can incorporate in your remodeling plan.
6. Take advantage of natural lighting
If you have a big enough window in your kitchen, consider yourself lucky. Natural light could easily pass through it, which could help to effectively illuminate your kitchen and make it feel bigger. Keep the window open by day and remove any obstruction and unnecessary décor—a crisp and lightweight curtain would do.
7. Keep your counters clutter-free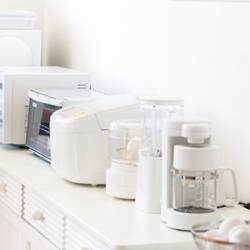 Chances are, you have unused stuff on your bar and countertops. From empty condiment bottles to the beverage containers that you forgot to throw away—these definitely eat up too much precious space! Get rid of these small kitchen messes and you will instantly notice the better difference. Simply put, you can never go wrong with doing a little cleaning before doing major changes!
Remodeling a small kitchen can be really challenging in terms of looking for techniques on how to make it look larger, and in searching for the furniture that would go well with it. It just takes a little creativity in coming up with an idea of your own, or you may also get inspiration from books, magazines and online pages as to how you're going to make your ideas happen. Happy decorating!