You've heard the saying: "The Kitchen is the Heart of the Home."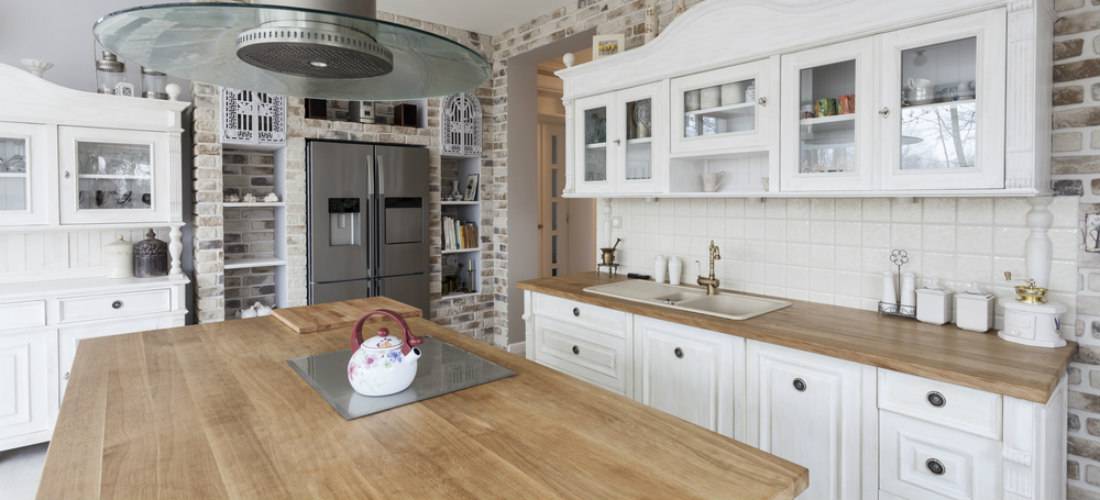 At least a couple meals a day are cooked and sometimes cases eaten there. Family meetings are held there, homework is done there, fighting siblings even accidentally make up there. (Food does wonders for attitude adjustments.) It is the capital of food, after all, and food = happiness. So, there's that. With all that time being spent in the kitchen we think it's important to love the space you create in. The most productivity comes when we love the space we work in, and we believe that includes cooking!
Butcher Block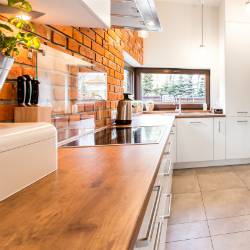 The farmhouse style of decor has taken the internet by storm. It's literally of a sudden that we (and we're sure you, too) have been seeing all kinds of rustic elements and country-style homes all over the place. Lots of texture, wood and natural elements are keystones of this style. Think green plants, different neutral tones, and lots of wood. Wood for the floors, shiplap wood for the walls, wood, wood wood. Which brings us to wood countertops, aka butcher block. Farmhouse staple. Butcher block is super simple, yet super gorgeous. It marries aesthetic with functionality seamlessly. You don't even need a cutting board. Because it's wood, it's lower on the cost scale than some of the other options, which is a definite plus. Also, because the farmhouse look relies on texture, any stains or knicks on your countertops bring character to it!
Granite
Cheaper than it's pretentious cousin Marble (that wasn't a jab, we swear.), Granite is much more affordable with some of the exact same qualities. There are so many different styles, patterns, and color choices with granite, so design-wise you are not limited by any means. You do need to make sure to seal this countertop material to avoid scratches and stains, but after that it stands up pretty well to normal wear and tear. While granite will cost more than butcher block, it will run you much less than concrete or marble.
Concrete
Concrete is a benchmark of modern minimalist design. Super simplistic and sort of gender neutral, this material welcomes contrasting design elements such and even needs them for warmth. We think neutral colors like white and browns go best with this countertop material, but the array of possibilities is only limited by your imagination. It's price point is somewhere between that of granite and marble, so allow for a little bit more budget, and the upkeep necessary increases as well. Concrete must be sealed very well before use and cleaned using only non-abrasive cleaners, and still has the ability to soak in stains, so take care of it like it's your first-born child.
Marble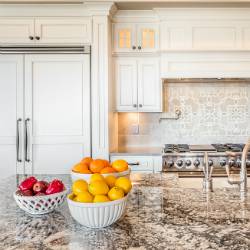 The head honcho, marble is right up at the top of the cost tier for countertops. Its heat-resistant properties make it pretty practical, as sometimes you just don't have the hot pot pad ready in time for the chicken pot pie to come out of the oven. C'est la vie. Special care should be taken not to scratch or stain it as it is a porous surface, so maybe cancel what we said and get the hot pot pad ready.
Contact paper?!
You didn't think we would leave out any of our loyal readers with a smaller budget for countertops did you? For anyone who can't drop the coins on a whole slab of anything right now, a hot new item on the market for D-I-Y-ers is contact paper. If you are a homeowner or have explicit permission from your landlord to do so, you can purchase contact paper to give your existing countertops a lift. Here's a video on the major transformation one Youtuber made to her countertops using marble contact paper.
Are you thinking about swapping your old-school countertops for something else? We'd love to help you get it done! What's your favorite type of countertop material?