Let's talk about doors, baby, let's talk about you and me! Okay we can stick with just talking about doors for now.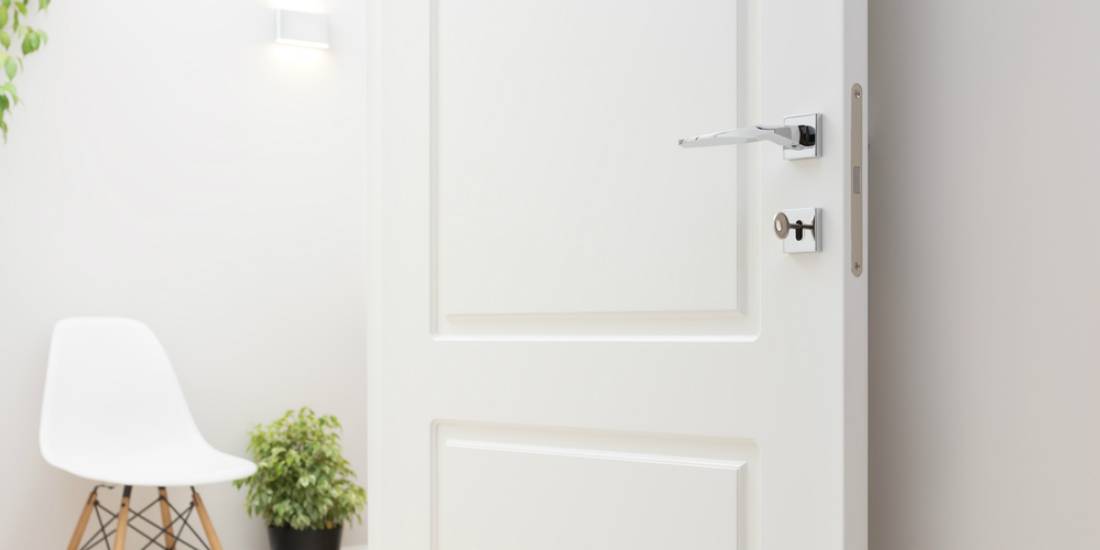 Doors are literally the gateways to the different areas of the home. They are the first thing you see before you enter a room and yet they are often times super neglected (just like the puppy you got your kids after they begged you and promised to feed, bathe and take it on ts daily walks). If that was a pain point for you, we're sorry--don't stop reading--we promise we have some tips for how you can improve on those less than appealing doors and turn them into gorgeous portals that get you and your guests excited to move from room to room.
Paint

A great first step to improving the doors in your home is to give them a good coat of paint. If you have an older home it's a very real possibility that you have (or know someone who has) some of those super basic, dark brown wood doors with lots of--ahem--character/natural wood grain texture with bright gold doorknobs. You probably feel like there is no hope for your home to ever end up on Pinterest with millions of viewers drooling over how gorgeous it is. Start with a simple two coats of white semi-gloss paint and marvel at the transformation. If that gets your creative juices going, then move on to step number two!
Moulding
Adding moulding in a smaller rectangular shape inside the perimeter of the door itself adds a major wow factor to it. After all, who knew doors could be pretty! Here's a list of things you'll need if you decide to tackle this project:
Moulding of your choice
Tape measure
Writing utensil
Sand paper
Paint
Paint brush and/or roller
This is an easy way to spruce up any ahem--"antique" looking doors around your home and give them a little bit of a fancier look. Check out Pinterest for tutorials on this easy fix!
Handles

Changing out those doorknobs for handles is one option. Have you ever stayed at a suite at a hotel or walked through a model home and noticed that their doorknobs were fancier than usual? Did you feel a little jealous at all? Are we projecting our inner door inadequacies onto you guys or nah? If you too have experienced a tinge of door handle envy, take a look at some of these options available at any big-box home improvement store and swap 'em out already! If buying all new door handles isn't in the budget, we have a quick fix for you too! Grab some oil-rubbed bronze metallic spray paint , disassemble those doorknobs, and give them a quick spray! Reassemble and we promise you'll feel as though you got brand new knobs straight out of the package.
So there are our quick tips on giving your interior doors a facelift! Super easy and doubly rewarding. Have you guys tried any of these projects? What was the outcome? Comment below!