Hip and ridge asphalt shingle comparison guide: Owens Corning vs Atlas Pro-Cut.
Hip and ridge shingles are a crucial part of a roof's structural integrity. Owens Corning and Atlas Roofing both make precut hip and ridge shingles to make the job go faster. As you compare Owens Corning vs. Atlas Pro-Cut hip and ridge shingles, consider the aesthetic you want to achieve, your budget and the climate in your area. By selecting the best hip and ridge cap shingles for your building, you can increase its value and reduce the likelihood of future maintenance needs.
When you install asphalt roofing shingles, it can be tempting to cut your own hip-and-ridge cap shingles. If you don't have the extra time or the expertise, however, precut Owens Corning and Atlas shingles are a better option. Both brands offer 3-tab shingles, architectural shingles and other standard residential roofing products.
Owens Corning hip and ridge shingles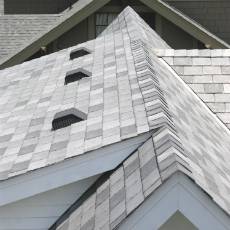 Owens Corning makes two lines of hip-and-ridge cap shingles. The Berkshire line is designed to work with other Berkshire roofing products but can be used with other similar shingles as well. If you live in an area that experiences inclement weather, the Berkshire hip and ridge shingles will provide excellent protection. They are approved for use in Miami-Dade County and have a UL 790 fire rating of Class A, so you can rest assured that your roof is stable. The Berkshire shingles are designed to give your roof a natural, beautiful look.
If you're looking for a dramatic finishing touch to your roof, Owens Corning's DecoRidge line of hip and ridge cap shingles might be a better fit. With a large 8-inch exposure, the shingles are designed for maximum visual impact. They add depth and dimension to your roof, which can boost its curb appeal and add extra protection from the elements. The durable shingles are made with heavy laminate and SBS-modified asphalt, which is designed to stay solid even in the coldest temperatures.
If your roofing estimate does not include the installation of shingles, the DecoRidge option might be best for you. The shingles are preformed, so they are easy to install. If you're handling your own installation, you can reduce the overall roofing cost. Given the high prices of asphalt shingles, the extra savings can be considerable.
Atlas Pro-Cut hip and ridge shingles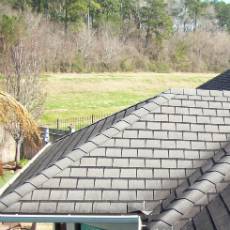 For builders who are looking for a middle ground, the Atlas Pro-Cut hip and ridge shingles may be the best option. The shingles have an exposure that is just less than 6 inches, creating an attractive look without being overly dramatic. The shingles are made with Scotchguard Protector, which protects your roof and provides a consistent look. The SBS modified sealing strip ensures a tight seal and increased performance in high-wind areas. If you are installing the Pro-Cut shingles as part of an Atlas Signature Select Roof System, you can enjoy an increased roofing warranty.
Whether you need advanced protection from inclement weather or you simply want a beautiful finishing element for your roof, Owens Corning and Atlas offer shingles to fit. As you conduct an Owens Corning vs. Atlas Pro-Cut hip and ridge shingles comparison, look to QualitySmith for honest consumer opinions and the latest industry reviews.