Routine care and a little bit of TLC will keep your hardwood floors looking beautiful for many years to come. Here are 7 ways to maintain your hardwood floors.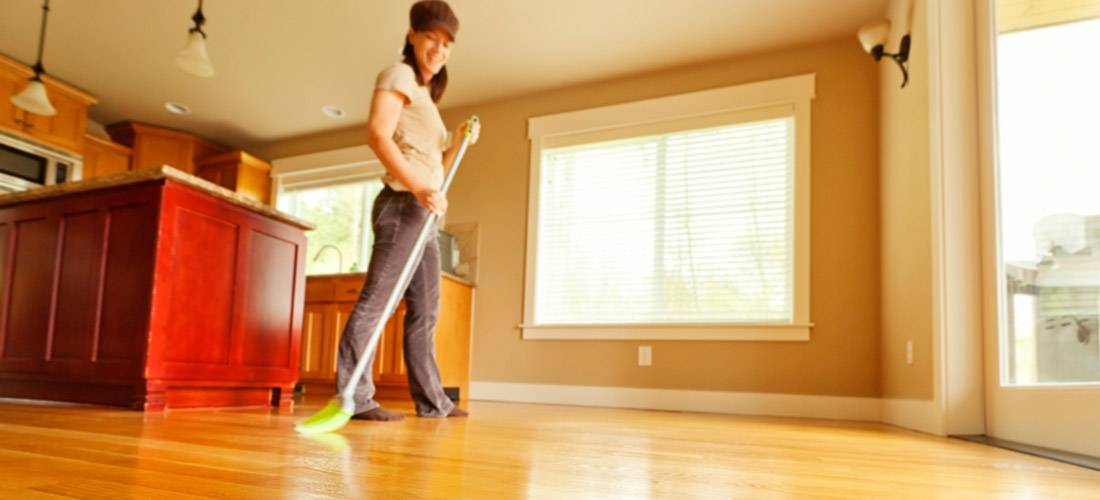 1. Vacuuming
Vacuum your hardwood floors regularly, at least once a week. Though you don't need reminding about this basic routine, it's still worth knowing why. Your fine hardwood floor takes a beating not just from the heavy traffic that goes through it every day but more from the fine gritty dust that acts like sandpaper.
Good vacuuming ensures that its appearance is at its best for a longer period of time. The brush attachment with a felt surface works best. Don't use a beater bar or a rotating brush because it can scratch the finish and can leave scuff marks.
Tired of hauling your vacuum out every weekend? Use the old-fashioned dust mop instead or one of those microfiber sweepers such as Swiffer.
2. Be Careful of Furniture Polish and Aerosol Sprays
Both furniture polish and hairspray can cloud your hardwood floor's finish. Every time there's a splash or a drop on it on your floor, wipe with a damp cloth immediately. Use non-ammonia window cleaner for a more thorough cleanup.
3. Keep it Dry
Moisture and water are also enemies of hardwood floors. Ugly blotches and dull floor texture are one thing, but you have to watch out for them when they penetrate deep into the wood and stain it, which can leave you with no option but to replace it.
So make sure rain, snow and even dripping cold glasses of beverages are kept at bay. Close windows in case of a bad weather. Make sure everyone wipes their feet or footwear dry at the doormat before entering the house. Put trays under potted plants. And don't let the little kids or your beloved canine friend run around the house all wet after a bath.
4. Keep it Free of Debris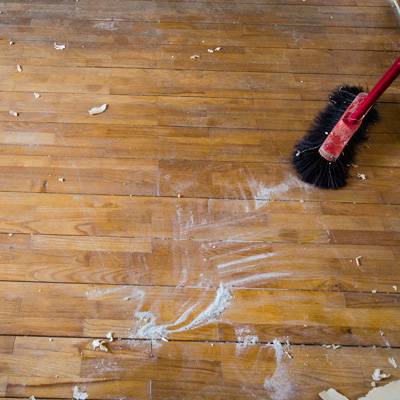 Dirt, spills, residues – all of these can easily be remedied by a no-wax hardwood floor cleaner. The sooner you wipe them up, the smaller the chances of damaging your floor. If you ignore them, it can seep deep within and can contribute to bigger problems that usually involve money to solve.
5. Know Your Floors
If your hardwood floor finish is varnish, polyurethane, or shellac, never use wax on it. It only makes the floor too slippery but it also leaves a residue that makes the floor dull and worn-looking. Regular vacuuming is usually the best and safest way to keep it clean and shiny. For stubborn stains, use non-acidic glass cleaner.
If you're not sure what type of surface finish it has, use a general-purpose floor restorer instead. But make sure to test it first on an inconspicuous area before applying on the whole surface.
6. Use a Mat
Always use doormats – the extra-long "walk-off" ones – both inside and out. Vacuuming and spot cleaning are great but keeping moisture, dust and dirt out in the first place is even better. The longer the mat from the door to any part of the house, the more it will encourage people to rub off their footwear of any moisture, dust and dirt.
7. Use a Rug
Your hardwood floor will be grateful if you always put area rugs in high-traffic zones. You can't avoid people from going back and forth in a certain area of the house – kitchen, living room, hallway – but you can ensure your floor's texture and finish will have longer lifespan by protecting them with good quality rugs.
Don't use rugs with no backing, and especially vinyl or rubber backing. They trap humidity and will just hasten the damage on your hardwood floor.
If you are looking for hardwood floors, there are dozens of companies. Appalachian Flooring is a great example of a quality flooring company.