A guide to the leading suppliers of yard structures, including wooden gazebos and gazebo kits
Adding a gazebo to your yard or commercial property adds a piece of interest. It is one of the more popular outdoor additions among today's property owners looking to improve their patios and backyards. These yard structures are wonderful and elegant.
Buying prefabricated wooden gazebos offers many benefits over doing the process yourself. Several companies specialize in offering gazebo kits to make installing your gazebo simple, so you can still do most of the project yourself, without the need to treat, measure and cut the wood for the project.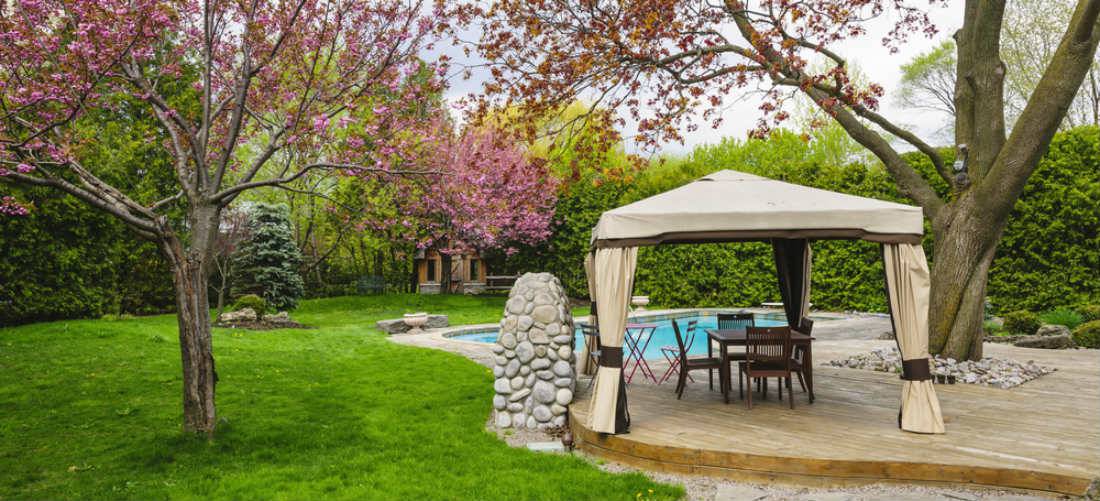 Benefits of Prefabricated Wooden Gazebos
Wooden gazebo
Prefabricated wooden gazebos are certainly the way to add one of these additions to your yard. Gazebo kits contain everything you need to build and install a wooden gazebo. All of the wood is already cut, treated and possibly even painted when you buy a kit. Kits come with all of the instructions you need to successfully install it yourself.
The price range for these kits varies tremendously. You can find one for just a few thousand dollars at your local hardware store, or you can buy a custom design for $20,000 or more from the supplier directly.
Several benefits of buying prefabricated gazebos include:
No need to measure or cut wood
All materials are appropriate for outdoor projects
All screws and bolts included
Wide range of sizes available
Lower price for materials
The Amish are famous for their beautiful gazebos, and with the help of Amish Country Gazebos, you can buy prefabricated wooden gazebos directly from them. Amish Country Gazebos offers gazebos made by Amish craftsman in Lancaster County, Pennsylvania, and they ship to most areas of the country.
Benefits of choosing this company include: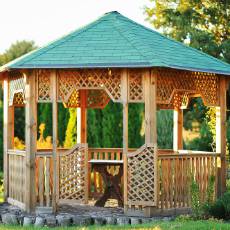 Workmanship guarantee
High quality materials
Front door delivery
Low price guarantee
Handcrafted work
Gazebo Creations is another supplier of prefabricated wooden gazebos for outdoor areas. They offer octagon, rectangular and square yard structures, in addition to ramadas, pergolas and other prefabricated outdoor buildings. Both gazebo kits and fully assembled gazebos are available from Gazebo Creations.
Benefits of these products include:
All products made in the United States
Customized yard structures available
Wide selection of options
Gazebo Depot offers Amish-built gazebos and gazebo kits for those looking to add these yard structures. While they do not advertise customization, Gazebo Depot has a wide range of styles, including:
Traditional octagon styles
Square and rectangular gazebos
Hurricane engineered gazebo kits
Dome gazebos
You can also find gazebo kits at your local hardware store, such as Lowe's or Home Depot, but these stores carry less variety than can be found when buying directly from the manufacturer. Gazebo kits are a great way to dress up patios and other yard structures. These popular additions can add value and curb appeal to your yard. If you are in the market for prefabricated wooden gazebos, QualitySmith can help you find the right companies to fit your needs.