Time to tackle the attic? Read about attic shelving system suppliers.
Don't rely solely on attic shelving system suppliers. Have your space custom made. For many homeowners, the attic space goes unused. Even with the sloping ceilings and limited space in a standard attic, you can create a viable storage space with specially designed shelving units.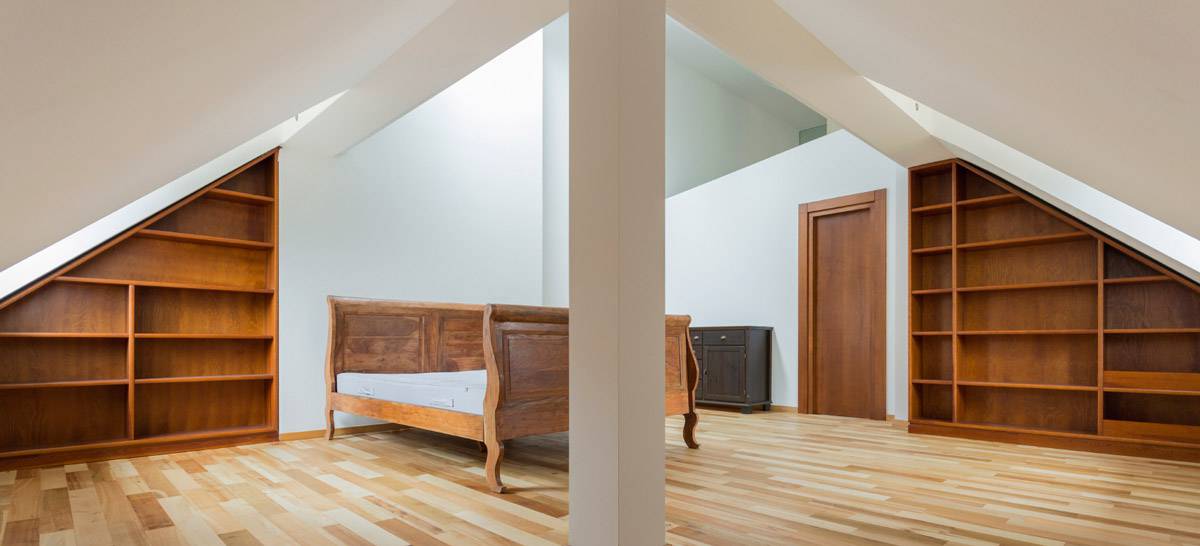 As you compare the leading attic shelving system suppliers, use QualitySmith to connect with experienced contractors in your area to handle all your addition and remodel needs.
Each attic is different and awkward in its own way. Attic shelving systems can only take you so far. With a contractor you can completely remodel your attic, customize and tweak it to your liking and to fit your needs.
By adding onto your attic or doing interior attic remodeling projects, you'll not only increase the value of your home, but you'll also be happier with it.
One of the most recognized names in the attic shelving industry is AtticMaxx. The company's shelving units are designed to work with the angled roofs in traditional attics, making the most efficient use of the space. Each unit fits neatly into the corner of the sloped ceiling and the floor, allowing you to use even the narrowest parts.
AtticMaxx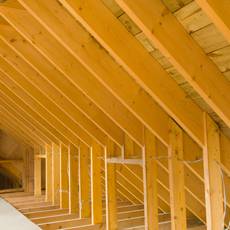 The AtticMaxx shelves are made with natural wood, creating a simple design that fits into the architecture of your home. The AtticMaxx shelves are sold directly from the company's website and from retailers like Amazon.com and Sears.
AtticMaxx shelving features:
Made with solid wood and plywood.
Comes with rust-resistant brackets.
Mounting screws included in shelving package.
Works with standard trusses.
Able to hold standard storage tubs.
Capable of holding fifty pounds per shelf.
ClosetMaid
ClosetMaid manufactures shelves that allow you to make use of even small spaces. If you have large spaces between the rafters in your attic, you can make use of special shelving units that are designed to fit in the rafters. The ClosetMaid rafter shelves can be hung at an adjustable height, so you can fit them to your rafter height.
Closetmaid's 9-cube, stackable storage organizer: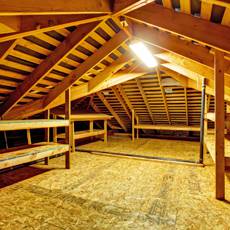 By installing attic shelving between your rafters, you can store small items like Christmas decorations or yard ornaments. ClosetMaid's shelves are most useful in unfinished spaces, which do not require aesthetically pleasing shelving units. They are available from a variety of licensed attic shelving suppliers around the country.
ClosetMaid rafter shelves feature:
Lightweight metal construction.
Easy hanging hardware.
Plastic coating for safe use.
Adjustable height to fit your attic.
If you are looking for several types of shelves for finished attics or unfinished attics, Sears is the best retailer. Sears carries a variety of shelving units for attics, from utilitarian metal models to decorative shelves designed to fit on low walls. For the widest selection, visit the Sears website.
Whether you are looking for standing units to add storage space to the middle of your attic, angled shelves for the sides of the attic, or ceiling units, Sears has an option for you. Its shelves come in multiple colors, so you can choose one that fits with your decor.
No matter which supplier you choose, it is important to take measurements of your attic to ensure that you buy the correct size. Measure the attic entry as well. A small door can limit the shelving options.
As you research attic shelving system suppliers, use QualitySmith for free remodeling estimates from area contractors. They can answer any questions you may have.