A power washer is one of the most versatile tools you can own at home. For just about any outdoor cleaning task you can imagine, a power washer can surely be used and deliver a satisfying result.
So the question is: do I need a power washer? Here are just 5 of the many ways to use one.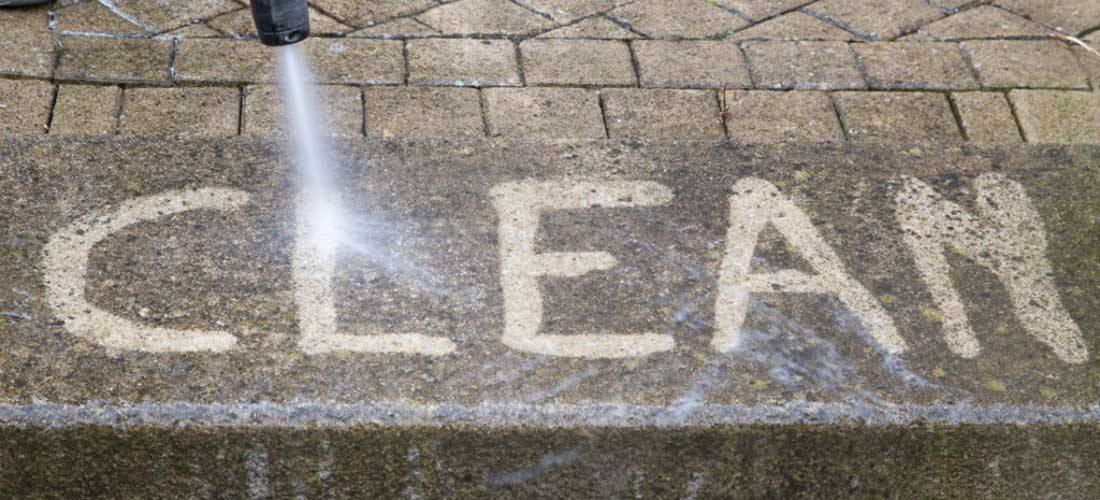 1. Fencing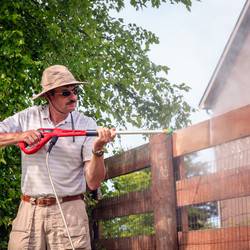 It makes a huge difference to power wash your home's protective enclosing at least once a year to turn it from a gray, saggy-looking fence to an almost good-as-new one.
Don't let the aggressive pressure of a power washer ruin your fence. The key is to use the right sprayer tip and most importantly, the proper technique – water spray should be at a 25-degree angle. Stop hosing the fence down when no more color change occurs.
2. Exterior Siding and Garage Door
Any type of exterior siding and even the garage door gets dusty and dingy over time, but a good cleaning through a power washer can quickly restore these vital parts of your home to its former beauty.
Make sure to remove any obstacles surrounding your home's exterior to avoid snagging the hose or causing you to trip over. Turn off all external electrical outlets and use a water-proof tape to cover them. Close all windows and doors and cover all plantings as well before you begin power washing your exterior.
If your power washer has a soap dispenser, use an appropriate detergent. Let the detergent remain on the surface for several minutes before scrubbing it clean or rinsing the suds off.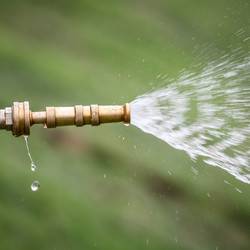 Don't wait for the detergent to dry off before you start spraying again. When you do, start from the top and working downward. Work one small section at a time to make sure you have covered all surfaces.
3. Outdoor Grill
Drive away tough grease and grime from your outdoor grill so you can spend more time enjoying barbecue parties with your loved ones and less time cleaning it up.
Make sure you have disconnected the propane tank and any electrical parts before giving it a wash. Remove grates to clean them separately. Use safe degreaser detergent suitable for your power washer. Apply de-greaser to the grill from the bottom up. Let it sit for up to 10 minutes before rinsing it down.
4. Spiderwebs and Wasp Nests
Make sure the colony is dead before you start power washing it. Spray the nest with your choice of insecticide so you won't have angry wasps flying at your face. Remove the empty nest before spraying to your heart's content.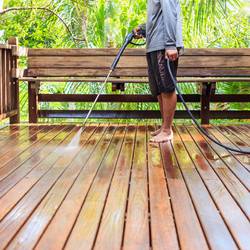 5. Driveways, Patios, and Decks
It's the same preparation and procedure you would do when you do a power wash to your house exterior. The things you have to remember when power washing your driveway, patios and decks are these:
When doing a power wash to your patio or deck, make sure the spray nozzle goes with the grain or the length of the boards – overlapping as you go along to avoid leaving streaks.
When doing a power wash to your driveway, be mindful of where all the water you are using to clean your driveway is going. If you live in an area with no sani-sewer, you have two options: push all the wash water to your lawn or block off the storm drain so you let the water flow there and sweep up the solids later.
Remember, a power washer is not an expensive splurge or a fancy new toy; its many uses and benefits for house cleaning and home care makes it a really cost-effective maintenance solution.
Home Depot has made an excellent video about how to use a power washer.