Tips for turning your attic into a game and entertainment room - Make an amazing attic gameroom
An attic gameroom is a great addition to any home, and attic game rooms are becoming quite popular among homeowners who are looking to maximize the use of their square footage. In many homes, the attic is merely a wasted space. Nonetheless, with just a few residential renovations, a game room in the attic can become your home's entertainment center.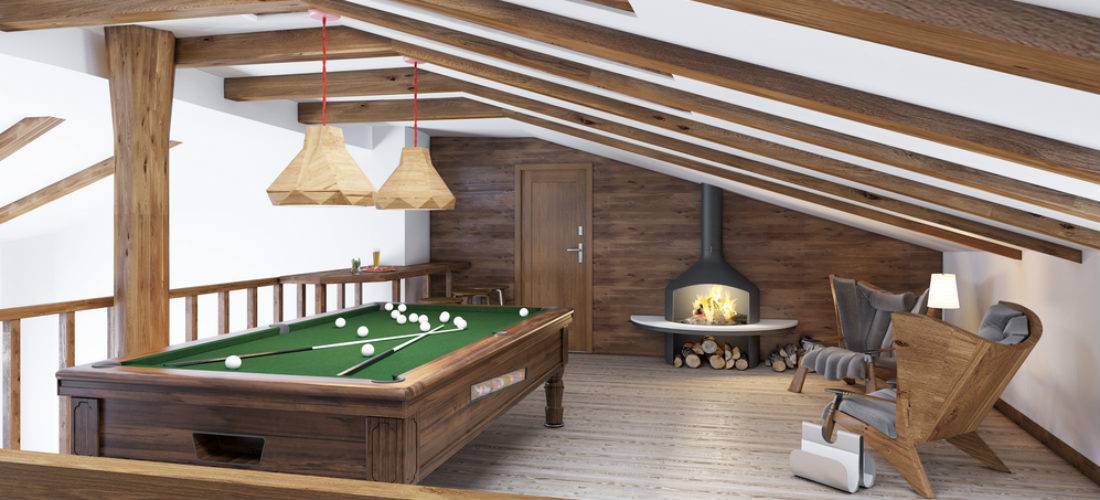 Attic gameroom
While converting the attic into a game room requires a lot of hard work, it can be done. Some homeowners will feel comfortable undertaking the conversion on their own. Others may need to hire a professional contractor for the job.
The first consideration that you should make when transforming the attic into a home game room is whether or not the floor is strong enough to handle the weight of furniture and people. You should also make sure that there will be enough head space to accommodate the average person. As a rule of thumb, ceilings should be seven feet tall or taller. Tresses in the attic that are A-shaped can be worked around. If the tresses are W-shaped, renovation can be costly and difficult.
Other considerations to make your attic game room a success include:
Lighting: Lighting is essential for enjoying your game room.
Most attics are not fully wired, so you will need to plan on adding some lighting and electric wiring to your game room before the walls go up.
Track lighting and recessed lighting are both good options for a game room, because they are less likely to interfere with game play.
Seating: The attic is usually limited on space, which makes it necessary to choose seating options that you might not choose for a game room with a bigger floor plan.
Floor pillows are sometimes a good option.
Bar stools can also be less intrusive and take up less room than traditional chairs.
A long bench resting against a wall can also provide sufficient space for your attic game room.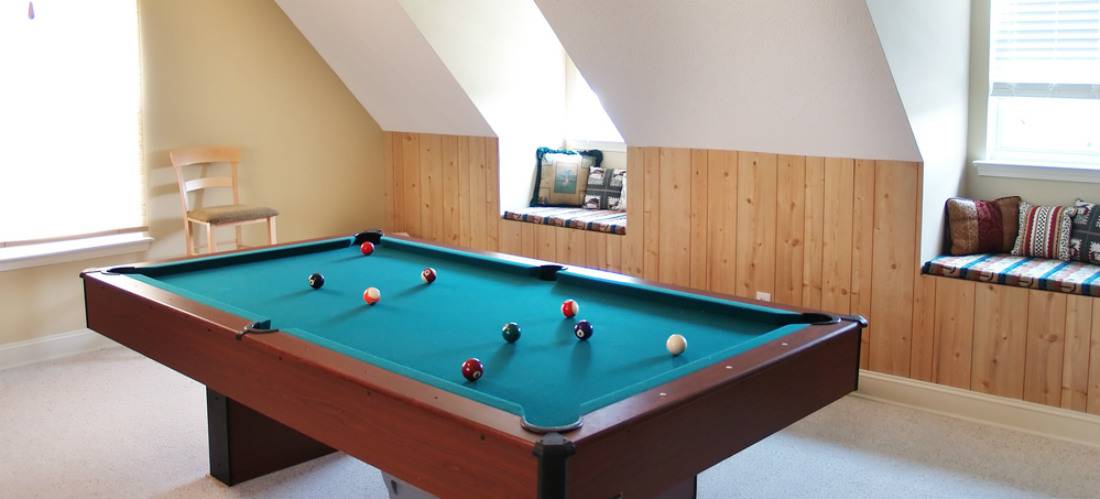 Games: When assessing the strength of the floor, you will be able to determine if your attic flooring will be adequate to hold the games that you want.
It is sometimes a good idea use a single game table that allows you to play more than one type of game.
For example, many multi-game tables feature billiards, table tennis and air hockey.
This is a great type of table for an attic game room with limited space. It will also offer the most bang for your buck when you purchase games.
Unfinished attics can be wasted space. Finished attics tend to make great game rooms. QualitySmith can help you find residential remodeling specialists in your area to help you convert your attic space into a fun and functional family game room. Attic game rooms not only add a new level of home entertainment to your space but also enhance your property value if and when you decide to sell your home.
BMI Gaming offers an excellent selection of attic gameroom equipment.