A comprehensive guide to help you choose the type and style of asphalt shingles for your new roof.
Installing a new roof is a significant investment that has a lasting effect on the value and look of your home, so selecting the right roofing material is imperative to the long-term success of the project. While many options exist on the market today, asphalt shingle roofing has long been one of the most popular roofing materials because of its strength, affordability and versatile applications.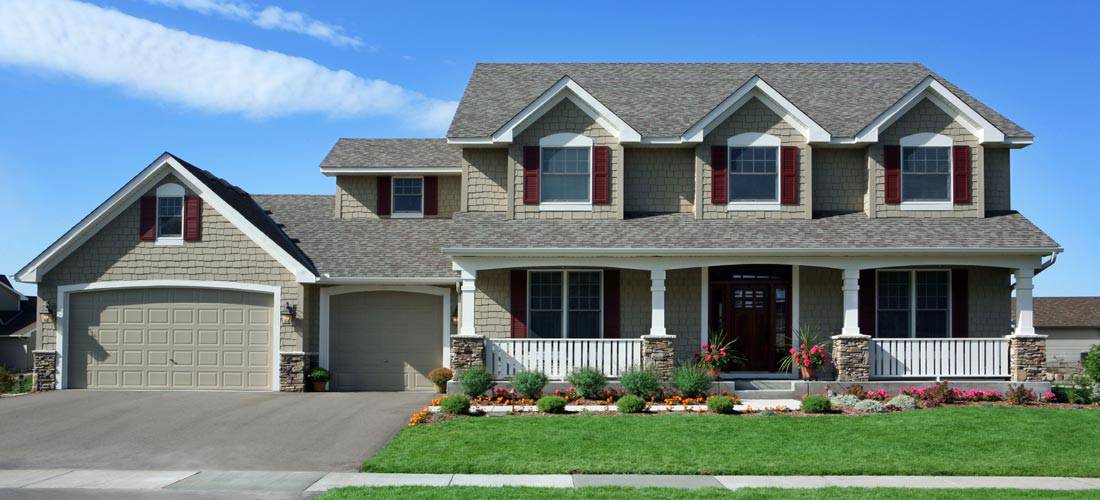 GAF Timberline HD Laminated Shingles Asphalt shingles are adaptable to all types of climates and come in a broad range of colors, styles and textures. With so many choices available for new asphalt shingle roofing, homeowners can be overwhelmed when selecting the right material for their specific roofing needs. This guide will lay out all the materials, styles and prices to help make your decision easier when it is time to purchase a new asphalt shingle roof.
Types of asphalt roofing shingles
Two types of asphalt shingles are commonly used on roofs today, both with specific advantages and applications to defend against harsh weather.
Organic asphalt shingles: Historically the most commonly used asphalt shingle, organic shingles are composed of a felt mat soaked in asphalt. These asphalt shingles are affordable and protect against harsh UV rays and severe weather.
Fiberglass asphalt shingles: With a fiberglass mat covered in asphalt, these shingles are more water resistant and considered more durable than organic asphalt shingles.
Both organic and asphalt shingles will provide outstanding service for your roof, with manufacturer warranties ranging from 25 years to a lifetime. While some roofing professionals will say you can't go wrong with either, there are certain subtleties and variations you should consider when picking just the right asphalt shingle for your new roof.
Organic asphalt shingles overview
Installing organic shingles Organic asphalt shingles are composed of felt paper or waste paper that has been soaked in asphalt. An adhesive layer of asphalt is applied and then the shingles are coated with a layer of ceramic granules for added durability against the sun and the elements. Organic shingles contain roughly 40 percent more asphalt than fiberglass shingles.
Many organic shingles are coated with leachable paint to protect the surface from algae discoloration.
Organic shingles are heavier than fiberglass shingles and can withstand high winds and heavy impact.
Organic asphalt shingles are capable of holding up in hot, arid climates, but can potentially melt or warp under extreme conditions. The paper-based mat makes the organic shingle more susceptible to fire damage.
Fiberglass asphalt shingles overview
Fiberglass asphalt shingles are composed of a glass fiber mat. The fiberglass mat strengthens the shingle to provide a longer lasting, more durable roof. The shingle is then coated with asphalt filled with mineral fillers that penetrate the tiny crevices in the fiberglass to make the shingle waterproof. Fiberglass asphalt shingles are lighter and stronger than organic asphalt shingles.
Fiberglass asphalt shingles are non-porous, which makes them resilient to rainy weather with limited warping.
Featuring flame-retardant and heat-resistant qualities, fiberglass is better suited for hot climates than organic asphalt shingles.
They are more eco-friendly than organic shingles because they use less asphalt and can reduce the temperature of the roof by up to 20 percent during the summer.
Fiberglass shingles may become brittle and prone to breaking under extreme cold and winter weather. Small cracks may then lead to water absorption and warping.
Fiberglass shingles are rich in alkaline, which can attract the growth of algae on the surface of the shingle.
Styles of asphalt shingles
Laminated architectural shingles Asphalt shingles are typically available in two styles. The most economical and popularly used style is the 3-tab shingle. This style gives the shingle the appearance of three separate shingles and gives your roof a smooth, flat look.
Laminated architectural shingles are higher-end designer asphalt shingles with extra asphalt layers to produce a dimensional look that emulates more expensive roofing materials like slate or cedar shake.
Both styles may come in a green, eco-friendly version known as a cool roof, which helps cut emissions and reduce heating and cooling costs for the home. The following section will help you decide which style of asphalt shingle is right for your home specific application.
Laminated Architectural Asphalt shingles
Architectural asphalt shingles are considered the high-end asphalt shingle because of their textured designer look and quality composition of layered asphalt. Typically made with a fiberglass mat, three or more layers of asphalt are added to give the shingles a thicker and more durable look.
Architectural shingles are coated in different hues of ceramic-coated granules to offer a wide range of different shingle colors.
Architectural shingles can be cut to mimic the appearance of more expensive cedar wood shake or slate shingles, with significantly more strength at a fraction of the cost.
Ideal for accenting steep-pitch roofs with gables and turrets to provide a classic beauty.
Composed of fiberglass with a heavy dimensioning of asphalt, laminated architectural shingles are strong, heavy and water-resistant to hold up against extreme heat and cold, algae growth and even hurricanes. The added strength usually means a longer warranty.
3-tab asphalt shingles
Laminated architectural shingles can add significant beauty to a steep-pitched roof with high peaks, but for many homeowners the costs can outweigh the visual aesthetics. Offering the same durability at a lower price, many homeowners choose to defer from architectural shingles to the more affordable 3-tab asphalt shingle.
Standard 3-tab asphalt shingles are basic granulated shingles designed to look like three individual shingles. The 3-tab shingle is flat with no dimensional thickness like the architectural shingle. It is designed to give your roof a smooth, sleek look.
3-tab asphalt shingles are ideal for low-pitch roofs, which are the most common roofs in the country.
3-tab shingles are widely available as both organic and fiberglass asphalt shingles, while architectural asphalt shingles are mostly available in fiberglass.
Weighing significantly less than architectural shingles, 3-tab shingles may be easier to install but do not hold up as well against high wind. The 3-tab shingles are usually measured to withstand winds up to 60 mph, while architectural shingles go up to 120 mph.
Asphalt shingle pricing
Asphalt shingle roofing Laminated architectural fiberglass shingles are more expensive than 3-tab organic asphalt shingles because they provide more aesthetic options and provide longer lasting durability with an accompanying warranty. Although 3-tab asphalt shingles cost less than architectural asphalt shingles, they are not necessarily an inferior product. A 3-tab shingle roof is still highly durable and gives most homes a clean look - and the discounted price makes 3-tab and organic asphalt shingles a very desirable option.
The price of a new asphalt shingle roof can range widely due to variables affecting different costs, including the shape of your roof, the time of year the roof is installed, repairs to significant roof damage and the cost of removing your old roof.
Installing a 3-tab organic asphalt shingle roof can range from $2,000 to $5,500.
Installing an architectural fiberglass shingle roof can range from $3,500 to $10,000.
Removing your old roofing can cost $500 to $1000 depending on the roofing material.
Extended warranties on your new asphalt shingle roof can add up to $5,000 to the cost of the project.
Before accepting an estimate from a contractor and signing into a legally binding contract, it is wise to acquire multiple bids from several contractors that do similar work. Some contractors may offer price breaks on the removal of the old roofing, or provide additional pricing incentives if you're flexible with the installation time. QualitySmith can help connect you with qualified contractors in your area that are ready to give you competitive quotes on your new asphalt shingle roof.