There are more and more smartphone compatible thermostats hitting the market, be sure you make the right choice.
The best kind of thermostat is the one that is easy to install, flexible and customizable – all with one swipe or tap from your smartphone. And since having a programmable thermostat at home can help you save your hard-earned money, here are some of the best smartphone compatible thermostats that can provide you smart comfort at a price you can afford.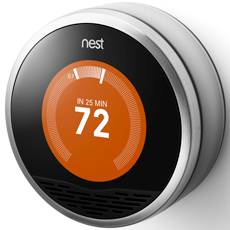 1. The Nest Learning Thermostat
There's more to Nest than meets the eye. It knows your temperature preferences, work habits and daily routines – truly considered as one of the first of a line of super high tech thermostats that you can ever possibly know. The initial temperatures you set is its guide for automatically adjusting itself when you're tucked away for the night, getting up in the morning as well as when you're in or out of the house. Through its mobile app, you can see your energy savings and reports – helping you be in control of the amount you pay for your energy bills. Though it will set you back $250 at Amazon, it's easy to use, internet connected and attractive enough to be part of your power and fuel consumption control efforts at home.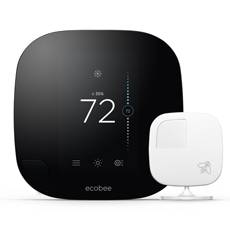 2. The Ecobee3 Smart Wi-Fi Thermostat
If the idea of remote sensors impresses you, then the Ecobee3 is your best bet. This learning thermostat can improve its motion control around your house through – yes, you're right – remote sensors. It means that even if the Ecobee3 isn't centrally located, the remote sensors will help it understand all your activities – waking and sleeping pattern, work schedule, etc. All the different time settings, temperatures, and zones are just some of the things you can manipulate from its dashboard so it is the perfect sidekick for serious data nerds out there. This Wi-Fi enabled thermostat supports Apple's HomeKit and promises to lower your energy bill, all for $222 at Amazon.
3. Honeywell Wi-Fi Smart Thermostat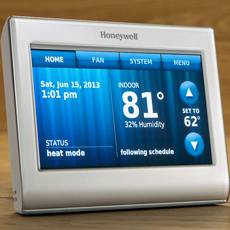 Sets up easily? Check. Incredibly flexible and programmable? Check. Bright and beautiful screen? Check. Nothing more you can ask from Honeywell's Wi-Fi Smart Thermostat. Program your weekly schedule down to the hour and you're all set to mind your business for the most part of the day. Of course, you can tweak at any time, make changes if you want. Did we mention it keeps you abreast of indoor climate? Yes, it does – thanks to customizable LCD that is bright and easy to read. Control it using your mobile app so you can set indoor and outdoor temperature, relative humidity and the like. Honeywell's so good for you, it will also let you know about extreme temperature changes as well as the schedule for changing your furnace air filter for optimal efficiency. All for $182 at Amazon, this thermostat is a keeper.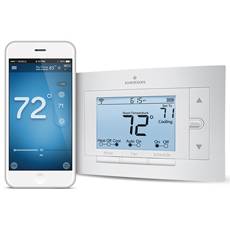 4. Sensi Wi-Fi Smart Programmable Thermostat
Does your tech-savviness only apply to changing a pair of AA batteries? Then you might want to consider having the super easy to install Sensi Thermostat at home. This programmable device makes do even without a 'C-wire' or common wire for its wireless capabilities. But don't be fooled by its simplicity. It is very much discerning of your temperature preferences to suit your habits in and out of the house. For only $118 at Amazon, Sensi is an all-around reliable thermostat that keeps you updated on everything you want to know from temperature differences around your house and energy savings.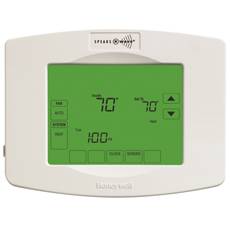 5. Honeywell Z-Wave Enabled Programmable Thermostat
Plain and austere looking it may be, Honeywell Z-Wave is still jam-packed with an array of programmable features that makes it more than just an ordinary internet connected thermostat. It is compatible with a variety of products and apps to make your home living luxuriously comfortable but if we're focusing on its capability to adjust the temperature just the way you like it, then it won't let you down. Its simple interface will let you get messages from other HVAC equipment around the house and can operate efficiently even without a 'C-wire'. Get it from Amazon for $137, and it will have you warm (or cool) enough to go through life's motions without stressing over skyrocketing energy bills.